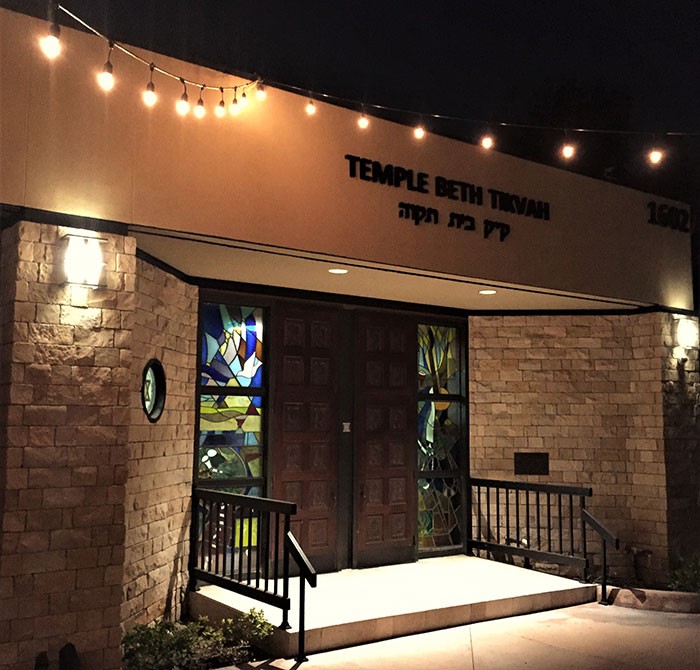 Coloring Jewish Life in North Orange County
Temple Beth Tikvah offers a community in which to get in touch with your soul (tikkun ha-nefesh) and find ways to reach out to others to bring acts of loving-kindness and justice to our world (Tikkun Olam).
Here in Orange County, California, we live in one of the entertainment capitals of the world. Each day offers a multitude of choices and activities. It's hard to know where to invest your time and focus. At TBT in Fullerton, we help you find a haven in this dizzying world, a place to seek deeper meaning in your own life and become the best version of yourself possible. Through the wisdom of our past, we help you make sense of your present and prepare you and your family for the future.
Learning
Temple Beth Tikvah is the definition of a learning community. We offer courses year-round, on weeknights and weekends. Our course titles will intrigue you. Our teachers will inspire you. Our courses will challenge you to think in new ways about not only the history but also the future of the Jewish people.
TBT offers classes on Torah, Hebrew, literature, history, and the arts. Each year, academics and rabbis visit Temple Beth Tikvah to offer lectures, teach classes, and serve as scholars-in-residence.
Prayer & Worship
Our devoted Rabbi, Rabbi Nico Socolovsky, and Cantorial Fellow, Gabrielle Newman offer a dynamic blend of worship opportunities that always encourage the participation of the congregation with our excellent musicians. On any given Shabbat you can hear piano, violin, flute, guitar and more! We pray using the Union of Reform Judaism's prayerbook: Mishkan T'fillah, but also incorporate traditional melodies, prayers and readings from Chassidic, Carlebach, and Israeli composers and writers.
Now, as always, Temple Beth Tikvah is your home.
Wed, January 22 2020
25 Tevet 5780
Today's Calendar
---
Friday Night
Candle Lighting

: 4:57p
Friday Night Services

: 6:30p
Shabbat Dinner
: 7:30p
Shabbat Day
Upcoming Programs & Events
---
This week's Torah portion is

Parashat Va-eira
Candle Lighting
Havdalah
Motzei Shabbat, Jan 25, 6:05p
Tu BiSh'vat
View Calendar
Wed, January 22 2020 25 Tevet 5780