Movie Mavens
Sunday, January 26, 2020
•
29 Tevet 5780
2:00 PM - 4:00 PM
Room 105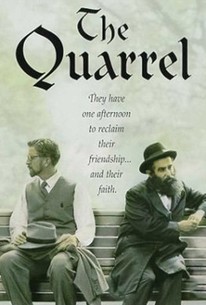 Movie Mavens' January presentation is The Quarrel. Koch, a contributor to Rotten Tomatoes, said the following about this movie:
"In their youth they were dearest of friends. Then they became bitterest of enemies. Now they are Holocaust survivors who have lost everything - alone in the world. As a result of their horrific experiences one has remained a deeply religious Jew while the other has turned his back on God. They meet by chance in a Montreal Park in 1948. Despite their differences, they promise to spend the day together to try and resolve that which separates them. But questions of faith and the wounds of personal betrayal still stand in the way of their friendship. Directed by acclaimed filmmaker Eli Cohen, written by award winning writer David Brandes and starring Saul Rubinek (Unforgiven) and R.H. Thomson, The Quarrel, now widely regarded as a classic, bursts with provocative ideas and complex emotions. It is a brilliant cinematic achievement that explores the age old debate between the religious and the secular worlds against a mesmerizing story of love and hate, good and evil, friendship and forgiveness. "When you wipe the tears from your eyes as the lights go up, you will feel you have been privileged to view one of the great movies of the last 30 years." Rotten Tomatoes gave it a 100%.
This wonderful movie will be shown at 2:00 on January 26th. It is only $5. This includes admission, snacks, and wonderful opportunities to schmooze with other viewers. You can pay ahead of time or at the door. Hope we see you there!
Share Print Save To My Calendar
Fri, January 17 2020 20 Tevet 5780